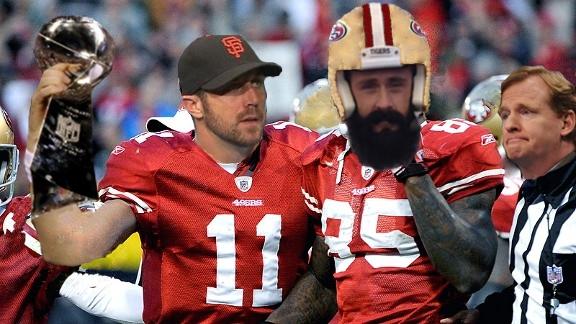 So many different stories about the fate of our beloved Brian Wilson.  Most are out dated and much like his gnome-he could be anywhere!  One thing goes without saying, there will never be a more intriguing or brilliantly strange character in professional baseball or anywhere else.  I for one will miss him. Or will I?
San Francisco Giants: Brian Wilson likely won't return to team

By Alex Pavlovic

http://www.mercurynews.com/giants/ci_22411224/san-francisco-giants-brian-wilson-likely-wont-return

Brian Wilson continues to work out under SF Giants' watch
http://blog.sfgate.com/giants/2013/01/09/brian-wilson-continues-to-work-out-under-sf-giants-watch/

Source: Mets work out Brian Wilson
Updated: January 14, 2013, 9:24 PM ET
By Adam Rubin | ESPNNewYork.com

The Beard may be switching coasts.

Brian Wilson worked out privately for New York Mets general manager Sandy Alderson on Saturday in
California, a baseball source told ESPNNewYork.com.

Wilson, 30, underwent Tommy John surgery last April after two early-season appearances.

http://espn.go.com/new-york/mlb/story/_/id/8840433/new-york-mets-hold-workout-brian-wilson-
source-says


Rumor Roundtable: The market for Brian Wilson
http://www.cbssports.com/mlb/blog/mlb-rumors/21558263/rumor-roundtable-whats-brian-wilsons-market

The Mets were not impressed by Brian Wilson

Craig Calcaterra Jan 16, 2013, 8:23 AM EST

As you know, Brian Wilson worked out for the Mets the other day. Color them unimpressed, reports
Mike Puma:

According to a baseball source Tuesday, the veteran closer didn't impress the Mets during his
workout at UCLA on Saturday and wasn't deemed worthy of a major league contract at this point in
his rehab from Tommy John surgery. Wilson, the source said, wasn't interested in a minor league
deal.

"Physically, he's not ready," the source said. "He's got a ways to go."
Perhaps he does have a "ways to go" but where is he going?!